Microsoft Teams Access Student Help Guide
This is the student help guide for accessing Microsoft Teams on your computer:
Microsoft Teams is an online meeting space that your teachers have created for your classes to meet together. To access Teams, you use your Office 365 login information that is provided on the outside of your instructional packet. Once you are logged in to Office 365, click on the App that is called "Teams." This can always be found by clicking the squares in the upper right corner: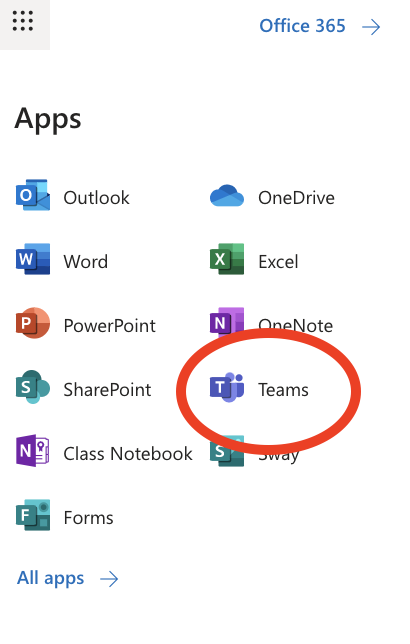 When you open Teams, it will either ask you to download the App or to open it in your browser. You can open it in your browser if you want, but I recommend using Google Chrome as your browser instead of Safari. If your browser doesn't load it correctly, then you will need to follow the following steps:
If you have Google Chrome, use that browser to login to your Office 365 account (https://login.microsoftonline.com/ ). Then, under the app list, click "Teams." and see if it opens that way. If that still doesn't work, then you will need to download the app by clicking the link in the section below.
If you don't have Google Chrome, you will need to do ONE of the following:
-download the Microsoft Teams app by clicking this link: https://teams.microsoft.com/downloads/desktopurl?env=production&plat=osx&arch=&download=true
-download Google Chrome by following the steps at this link: https://www.google.com/chrome/thank-you.html?brand=CHBD&statcb=0&installdataindex=empty&defaultbrowser=0
IMPORTANT: To download either Chrome or Teams on your computer, you will need an administrative username and password. The username is SPHS and the password is HarleyCVO.
Once you have either downloaded Google Chrome or the Teams application, the you will need to login to your Office 365 account using the information that was given to you. Once you are logged in and in the Teams application, if your teachers have added you to a team, the classes should show up under the "Teams" section.
I hope these directions make sense! Please share this info with any friends who have troubles. Don't be afraid to email with questions any time!
My email address is kayla.palczewski@k12.nd.us