🏀South Prairie 3 on 3 Basketball Spring League 🏀 Individuals can come each Sunday and be randomly placed on a team with other individuals. Each week you get points for wins and points. The last week individuals are ranked according to their points for wins and placed on a team accordingly for an end of season tournament. Prizes will be awarded for individual winners in each age group as well as tournament winners. Dates are Sundays, April 25, May 2, May 9, and May 16. 3rd-6th Grade 5-6:30pm and 7th-12th Grade 6:30-8pm. Entry fee of $100. Includes a free t-shirt. Go to:
https://tinyurl.com/Spring3on3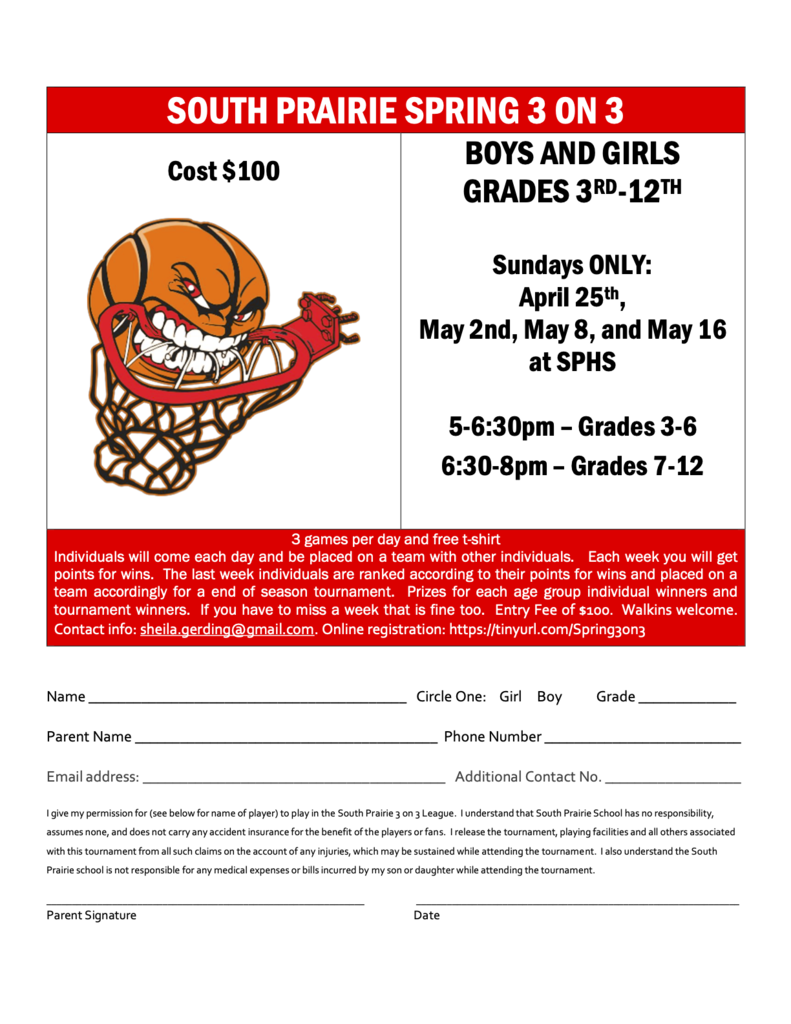 Lion Pride Elementary Wrestling Camp! Bishop Ryan is hosting an elementary wrestling camp for wrestlers in grades K-6. The camp will be June 2-3 and costs $60. You can complete the form that is attached and send it in, or you can register online using the following link:
https://sites.google.com/view/bishop-ryan-wrestling/news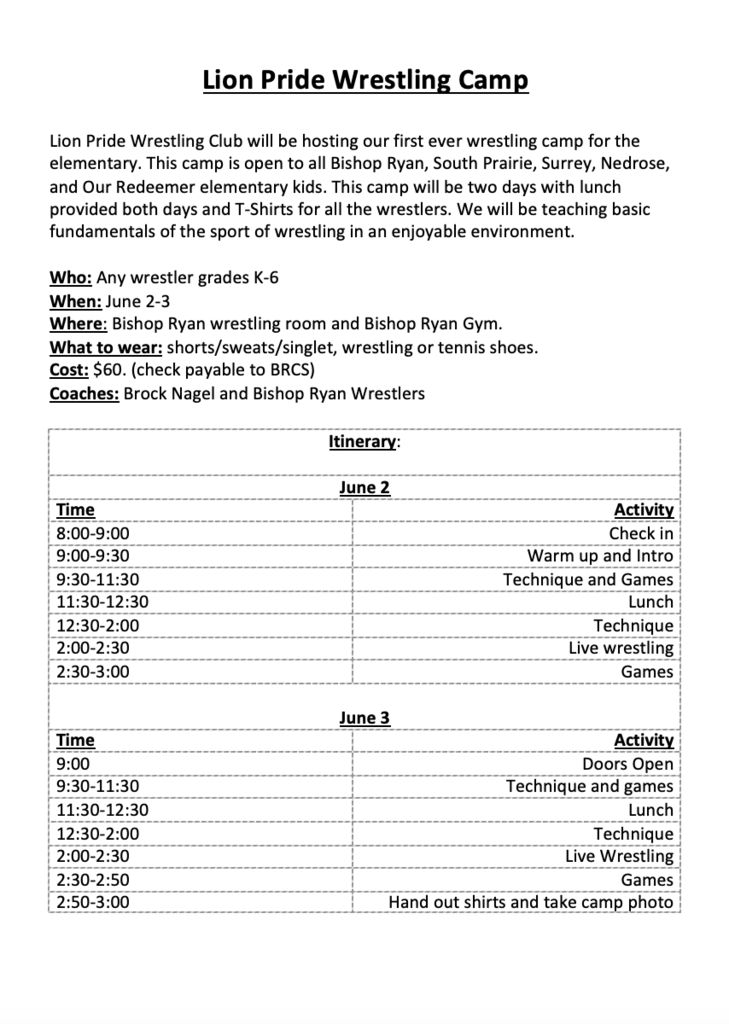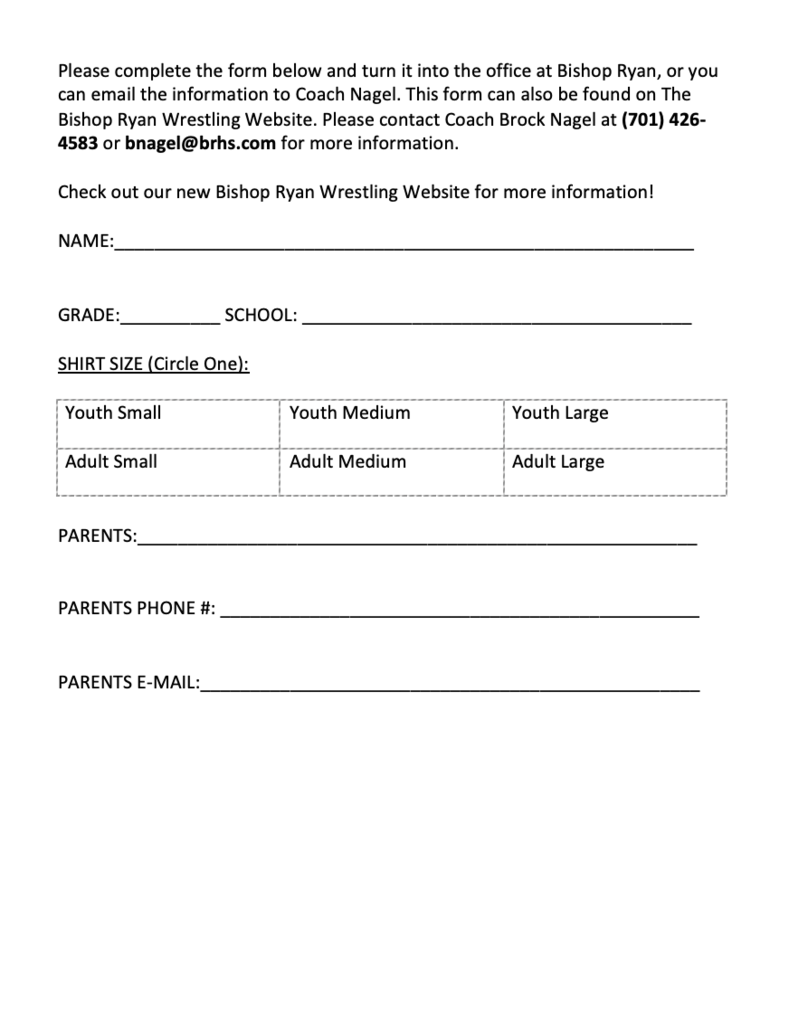 𝘚𝘰𝘶𝘵𝘩 𝘗𝘳𝘢𝘪𝘳𝘪𝘦 𝘏𝘪𝘨𝘩 𝘚𝘤𝘩𝘰𝘰𝘭 𝘈𝘤𝘵𝘪𝘷𝘪𝘵𝘺 𝘉𝘢𝘯𝘲𝘶𝘦𝘵 📅Thursday, May 6th, 2021 ⏰ 6:00 p.m. 📍 South Prairie High School Gymnasium 🎟 Adults and Guests- $10 / Student athletes in grades 9-12 and 6-8th grade varsity players are free. Tickets MUST BE RESERVED IN ADVANCE. No tickets will be sold at the door. *Return bottom of the form with payment to the high school office by Wednesday, April 21st, 2021.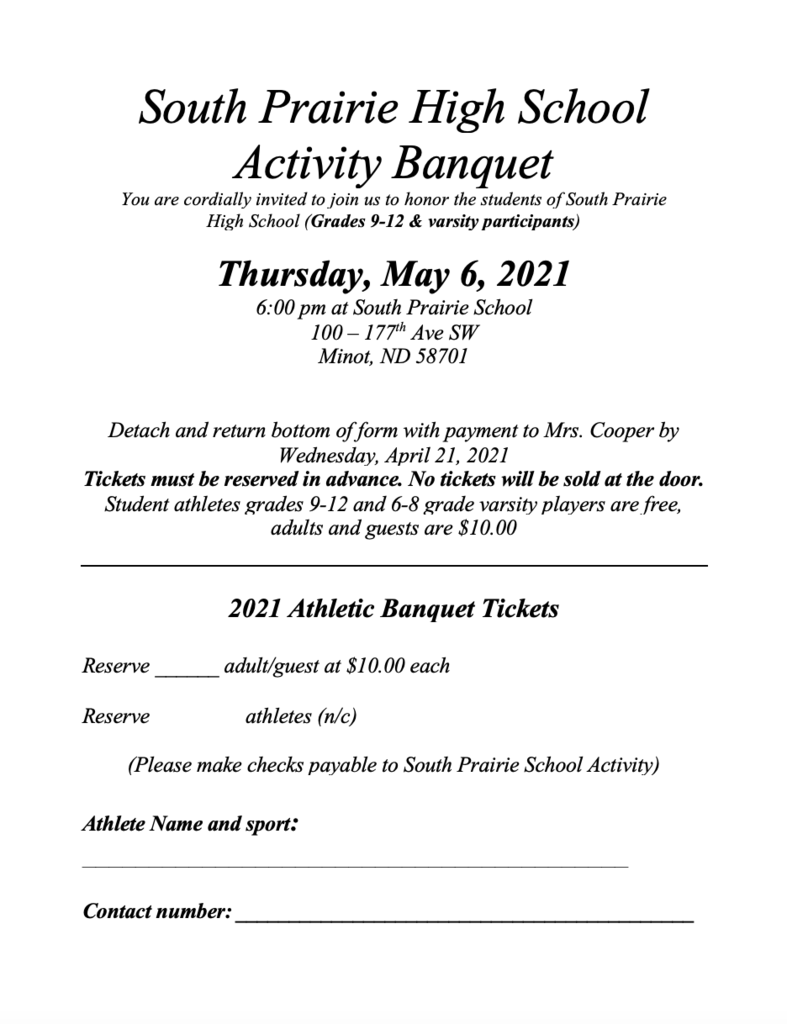 The PTO is selling merchandise that you can customize and order with our "Royals" logo on it! The money raised helps fund the awesome events the PTO puts on for our students and teachers! Head to
www.supportsouthprairie.com
to take a look at the variety of options and place your order! *The sale ends on April 8th!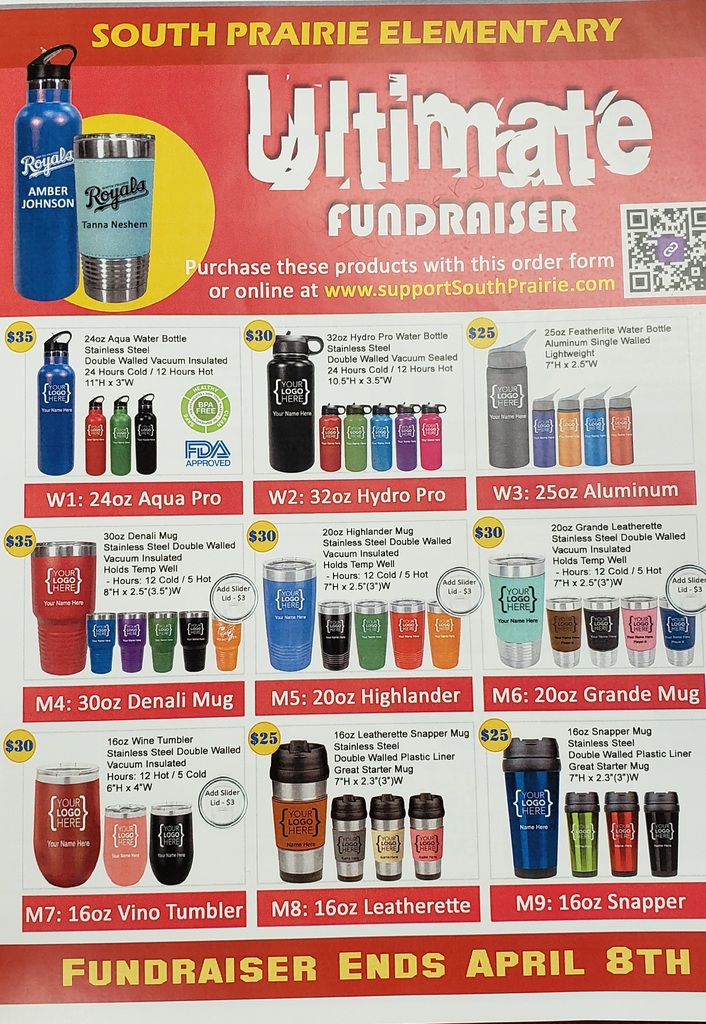 Kamryn Morrison received the 4-Year Award at the All-State Music Festival. The 4-Year Award is given out to students who are chosen to be a part of the All-State Music Festival for four years in a row. This is a rare and highly regarded award. Congratulations, Kamryn, on this awesome accomplishment!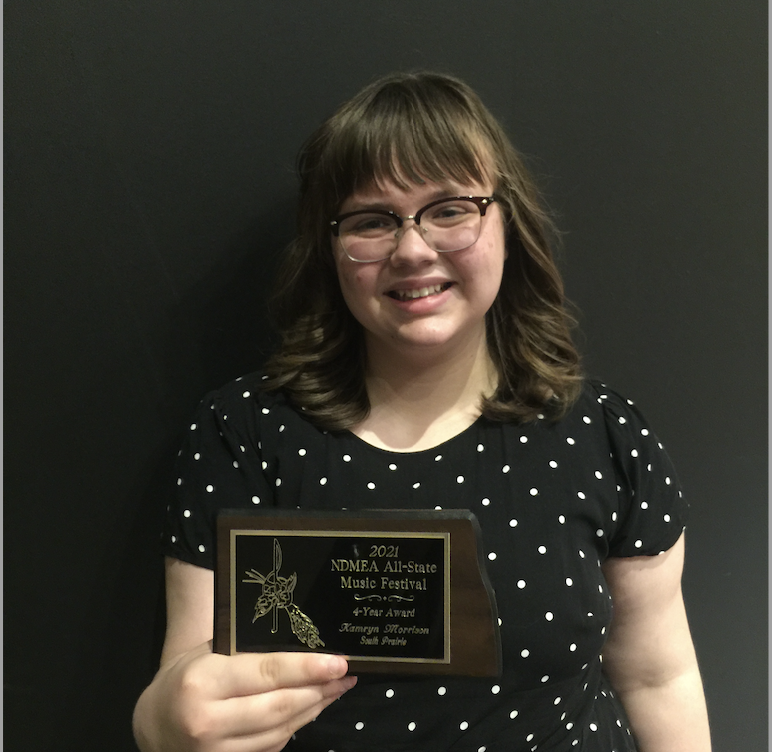 Here is the honor roll for quarter 3 (grades 6-12). Congratulations to all of our hard-working students!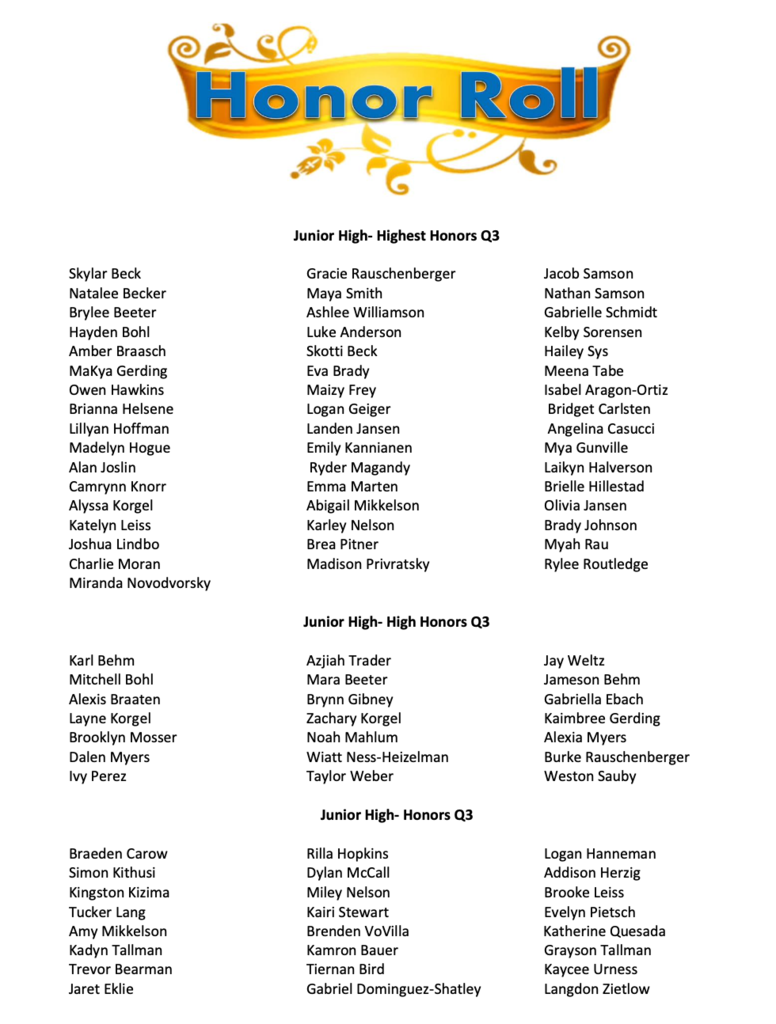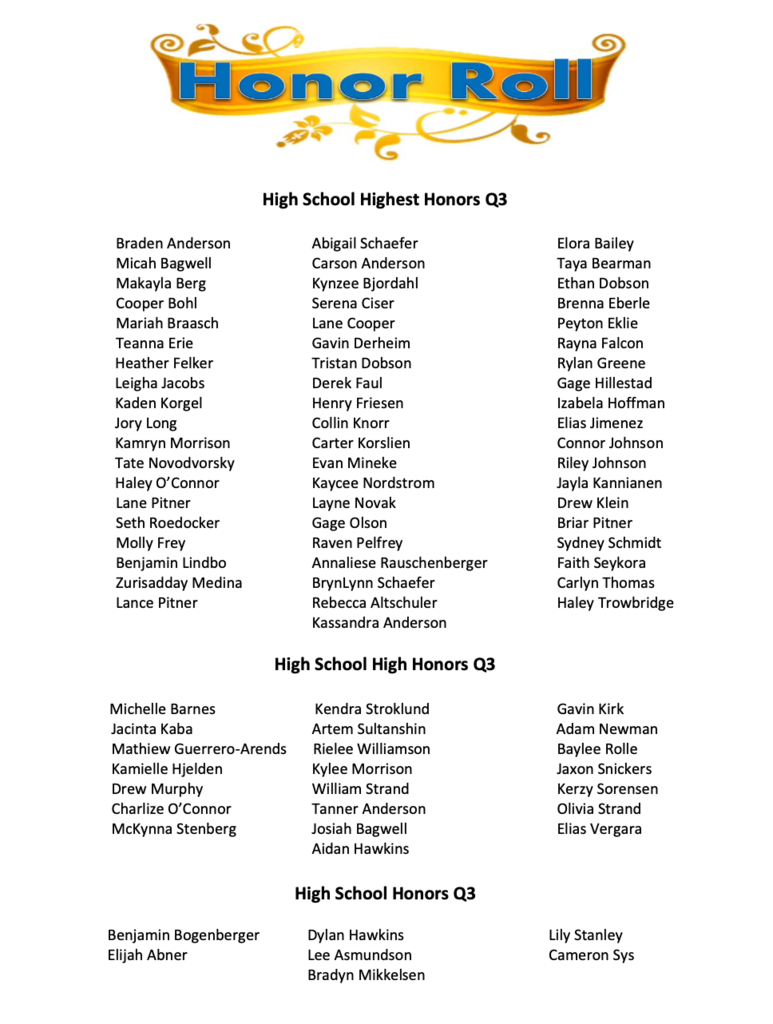 𝙏𝙝𝙚 𝙎𝙤𝙪𝙩𝙝 𝙋𝙧𝙖𝙞𝙧𝙞𝙚 𝘿𝙧𝙖𝙢𝙖 𝙏𝙚𝙖𝙢 𝙥𝙧𝙚𝙨𝙚𝙣𝙩𝙨 𝙩𝙝𝙚 𝙥𝙡𝙖𝙮, "𝘼𝙡𝙞𝙗𝙞𝙨" 𝙖 𝙢𝙪𝙧𝙙𝙚𝙧 𝙢𝙮𝙨𝙩𝙚𝙧𝙮 𝙘𝙤𝙢𝙚𝙙𝙮! 🎟This is your 𝗼𝗻𝗹𝘆 𝗰𝗵𝗮𝗻𝗰𝗲 to see this 𝗔𝗪𝗘𝗦𝗢𝗠𝗘 𝗽𝗲𝗿𝗳𝗼𝗿𝗺𝗮𝗻𝗰𝗲, so head to South Prairie's high school gym tomorrow night at 6:30 and check it out! It is open to the public and good for all ages! 🍿There will be 𝘀𝗻𝗮𝗰𝗸𝘀 available to purchase during intermission! ☑️There will also be a 𝘀𝗶𝗹𝗲𝗻𝘁 𝗮𝘂𝗰𝘁𝗶𝗼𝗻 with some great items up for grabs!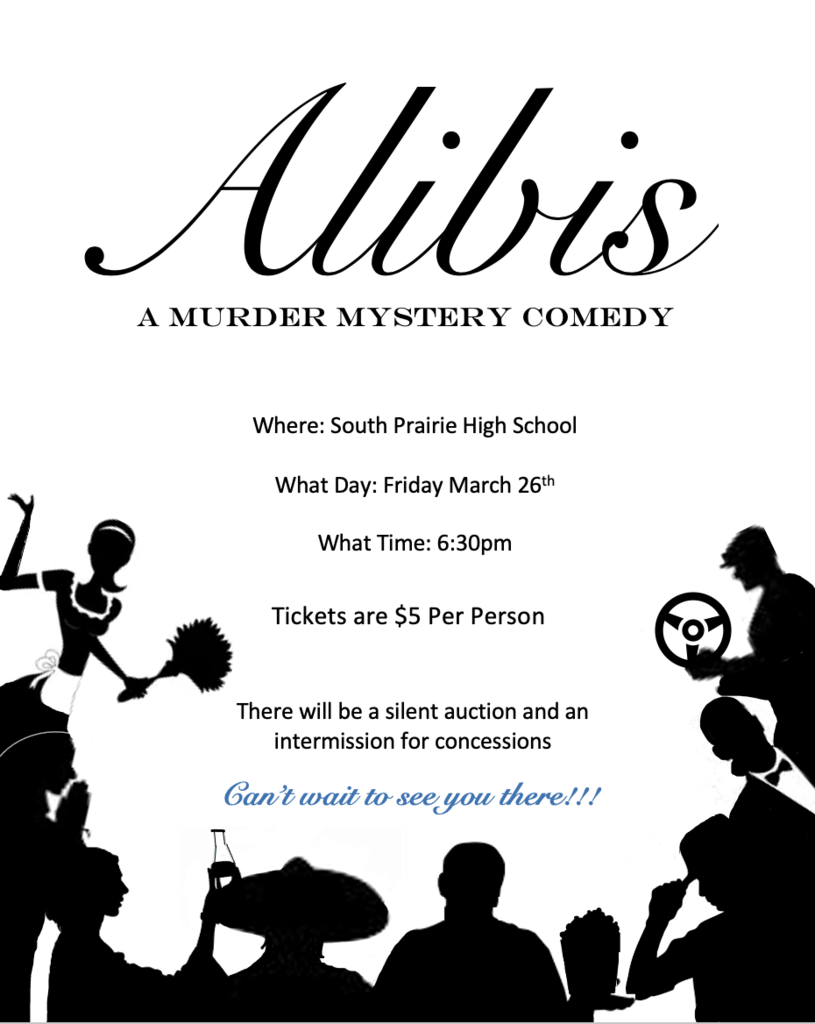 🎉Congratulations to Kylee Morrison on her third place finish in the All-Around Cheerleader competition! Way to go! 🎉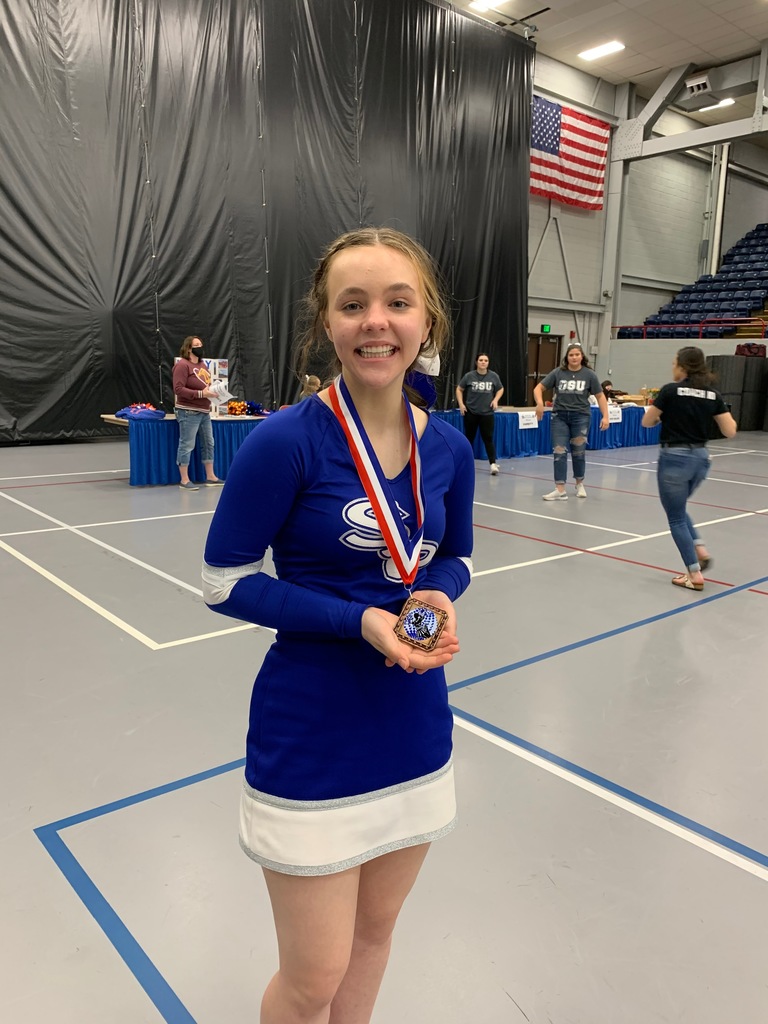 State cheerleading is this Saturday at the Minot Auditorium! Kylee Morrison will be competing in the individual competition that begins at 1:00 p.m. Good luck, Kylee! 💙🤍
Parent/Teacher Conferences are today and tomorrow (March 8th and 9th) from 4:00 p.m. to 7:00 p.m. All conferences will be held in the teachers' classrooms. 📚The Scholastic book fair is going on in the library until 7:00 both nights as well. All books are buy one, get one free! Don't miss out! 🌸Stop by the library to purchase a forget-me-not flower that can be hung up on student lockers or in the hallway! The money raised from the flowers goes to the Alzheimer's Association.
REMINDER! Spring pictures are coming up on March 16th! Only students who bring a form or who have a receipt from ordering online will take pictures that day. Forms were sent home with all students today. These pictures are optional!
Here is the updated bracket for the District 12 Boys' Basketball tournament! Good luck, Royals! 🏀 Regional Qualifier: South Prairie Royals vs. Surrey Mustangs ⏰ Game Time: Approximately 5:30 p.m. 💙🤍 Theme: Blue and White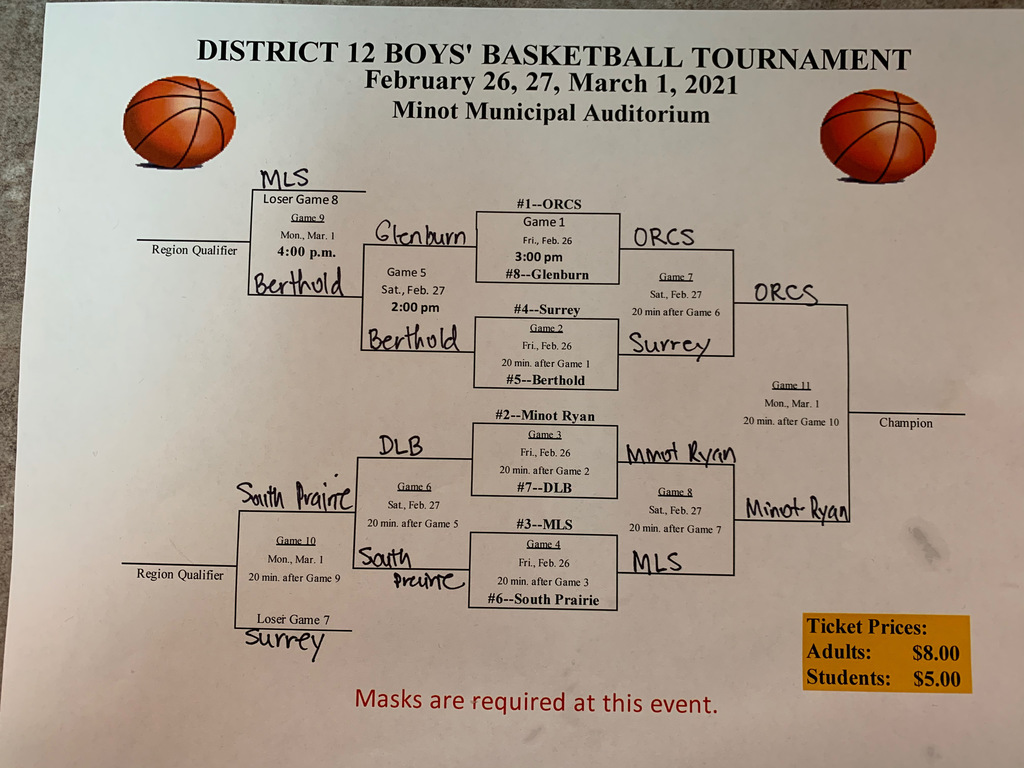 🌸 Buy a Forget-Me-Not flower to support the Alzheimer's Association! 🌸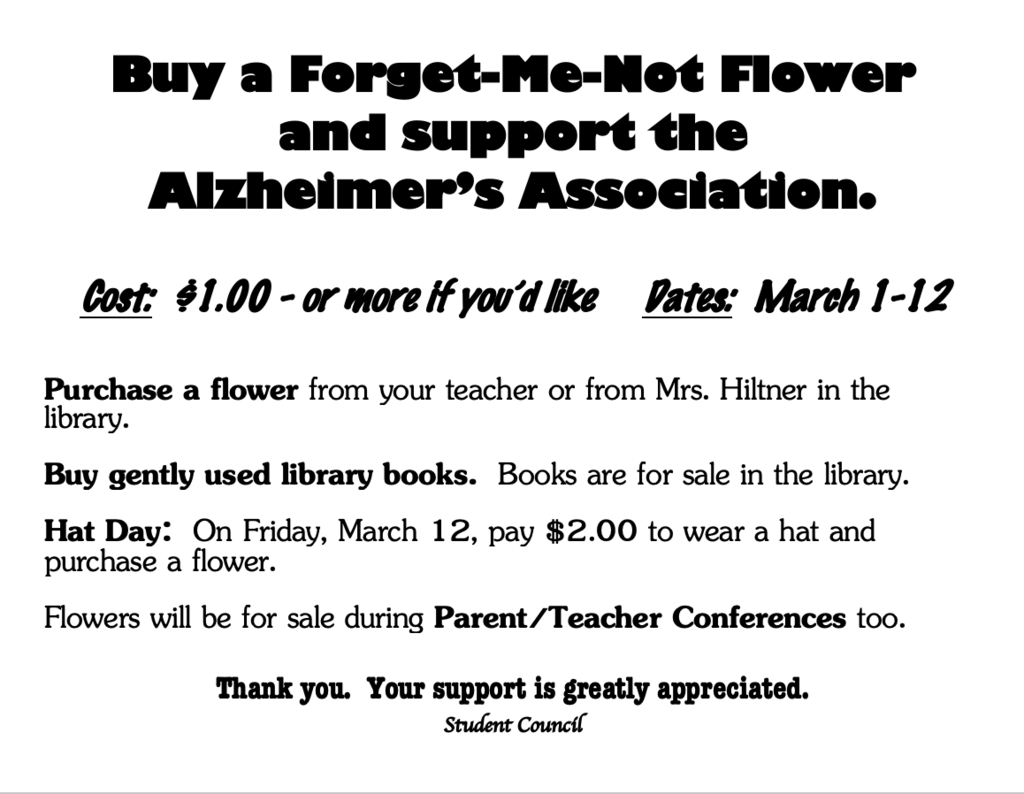 Spring pictures are coming up on March 15th! These pictures are optional. You can order online at gemarphotography.hhimagehost.com. The printed order form will also be sent home with students!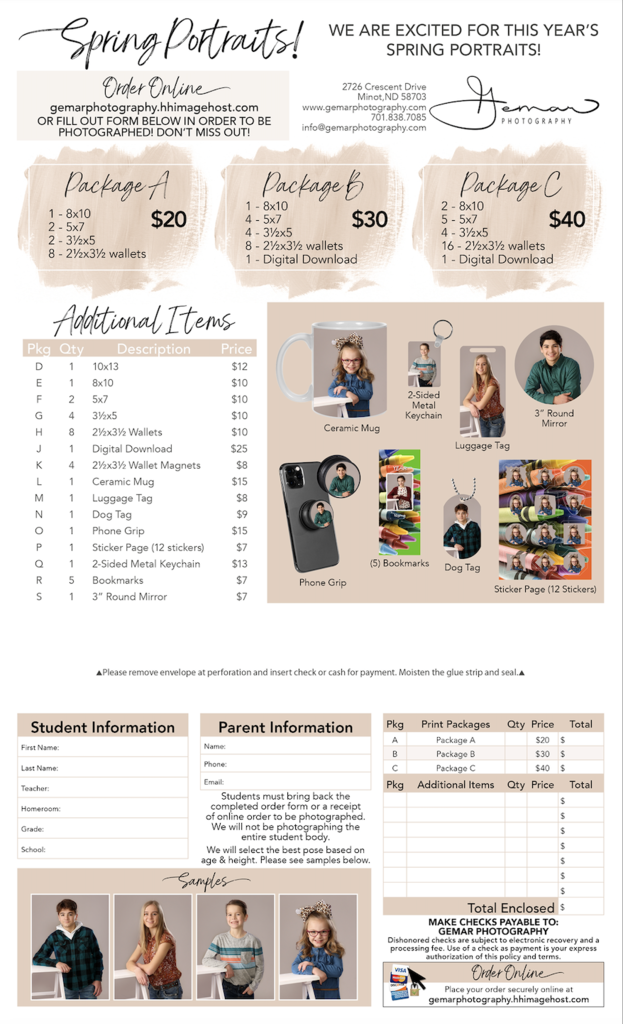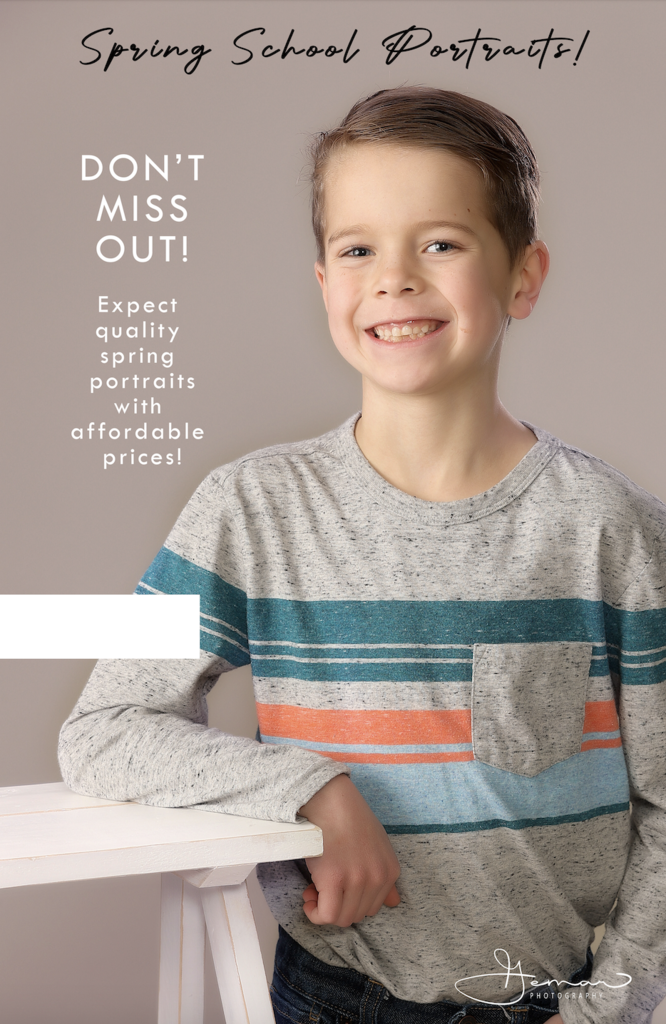 Congratulations to Lane Cooper on placing third at the state tournament last weekend! The Bishop Ryan Lions placed 14th as a team with three placers! Nice work!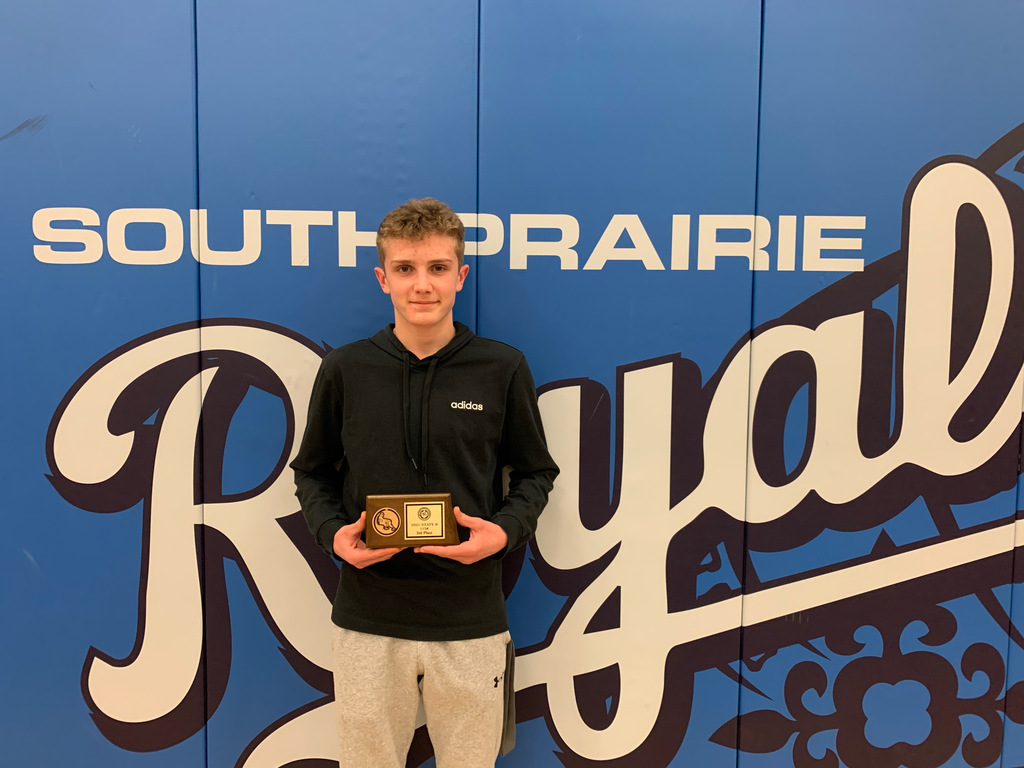 Here is the bracket for the District 12 Boys' Basketball Tournament that begins next week! Good luck, boys! 🏀
Don't feel like cooking today? Stop by Five Guys and support the South Prairie Prom! Mention you're a part of South Prairie Prom at the time of your purchase, or show them a picture of this flyer, and 20% of your purchase will be donated! 🍔🍟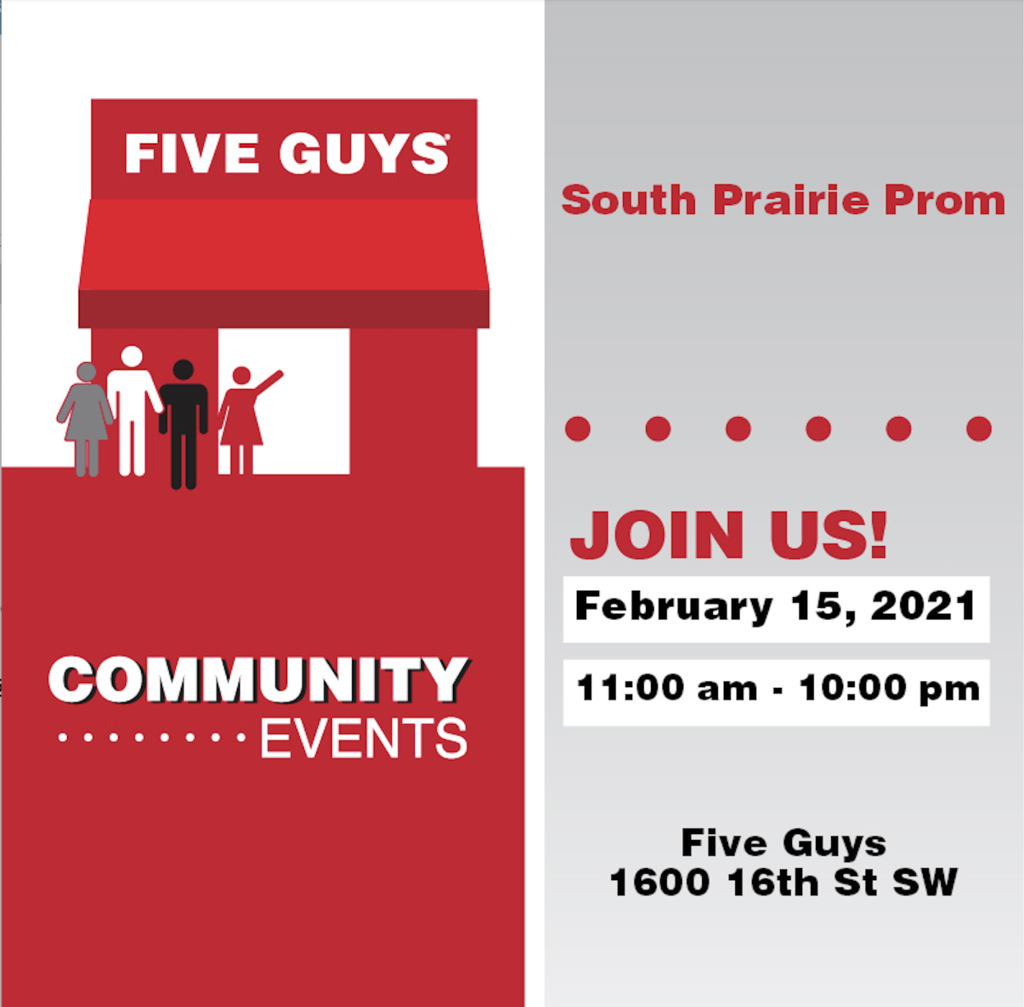 Scheels (Minot, ND) picked South Prairie's 4th grade class to take part in Giving Hearts Day in an AWESOME way today! Scheels gave each student $10 and each teacher $100 to donate to a charity of their choice! The students also learned about the charities and the importance of giving to others.❤️ They also gave away two signed Carson Wentz pictures to two lucky students!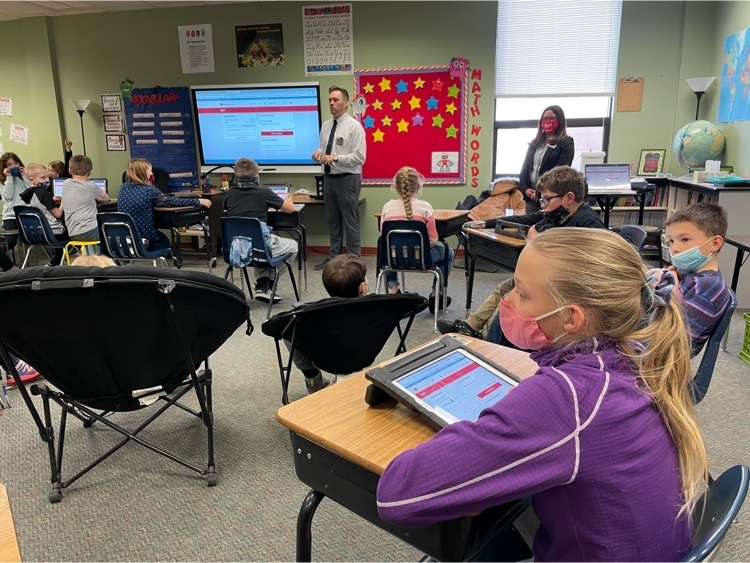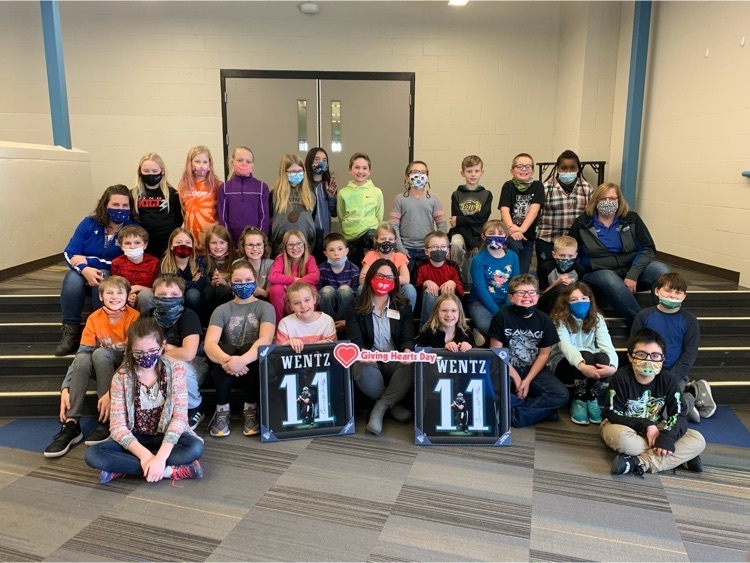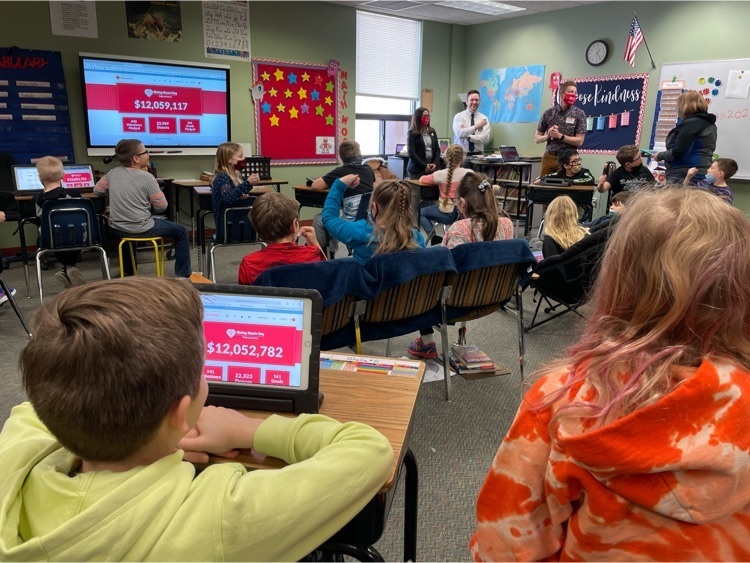 🏀Today is the first day of the District 12 Girls Basketball Tournament! The theme for today's game (1st round vs. MLS) is BLUE OUT and the theme for Friday's game is WHITE OUT. You can watch all District 12 basketball games on the PSP Network (
WWW.PSP.NETWORK
) or listen on the radio (
www.khrt.com
). Good luck, girls! 🏀The high school boys basketball team travels to Stanley tonight for three games.