Yearbooks are on sale for $52.00 until April 21st, 2023! Prices will go up after April 21st! They can be purchased online at:
https://jostensyearbooks.com/?REF=A06193530
or bought by printing this order form and using a check:
https://5il.co/1rl21
. All order forms and checks need to be given to Mrs. Ashley Unruh (room 118) directly! PLEASE DO NOT SUBMIT TO THE OFFICES. If you have any questions, please reach out to Mrs. Unruh at
ashley.unruh@k12.nd.us
.
Track results from yesterday's NWC indoor meet: Boys: 1 Mile - Tristan Dobson 6th place 400 - Aiden Hawkins 7th, Dylan Hawkins 8th Shot Put - Trey Bennet 2nd Girls: 400 - Hattie Heer 5th
🌟 This week's 𝙉𝙚𝙬 𝙎𝙩𝙖𝙛𝙛 𝙈𝙚𝙢𝙗𝙚𝙧 𝙎𝙥𝙤𝙩𝙡𝙞𝙜𝙝𝙩 is on Taylor Vendsel, 2nd grade teacher! 🌟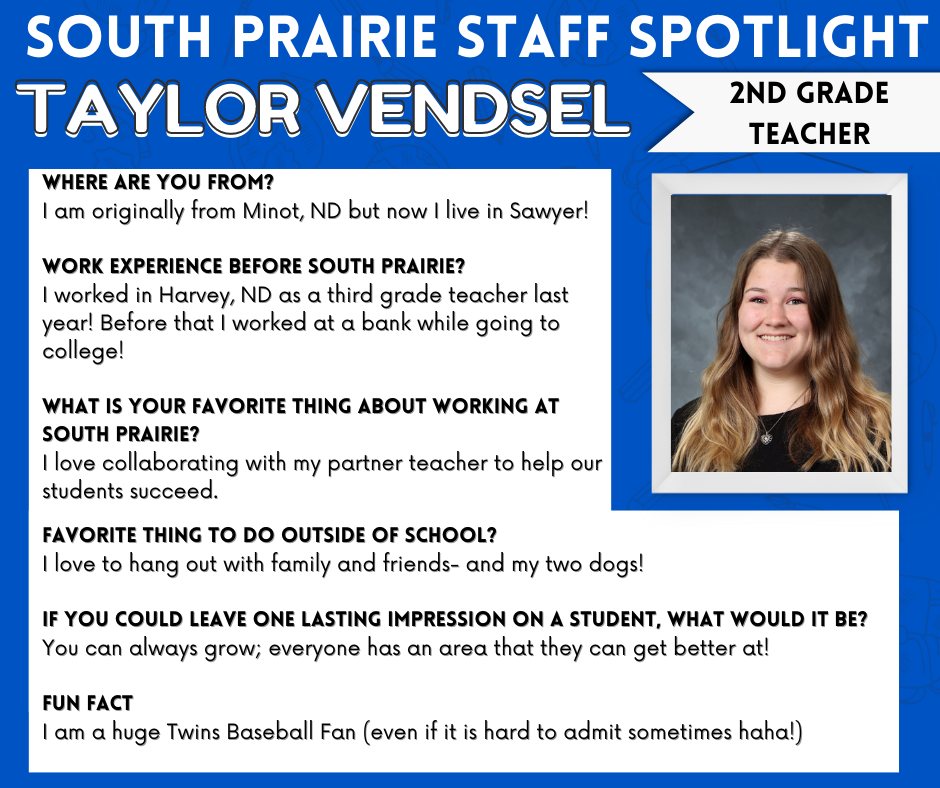 Students in grades 6-12, just another reminder that we would love to know if you are interested in participating in a school talent show. This is an event that we use to have with a lot of participation and that we would like to bring back if there is enough interest. If you want to participate, fill out the following survey so we can get an idea of whether or not it would be worth putting together! Thank you!!
https://forms.office.com/r/4ANYRZYhRf
☀️⚾️🥎⛳️👟 Although it might not seem like it outside, spring is upon us! Baseball, softball, 5th and 6th grade girls basketball, and track & field have all started and boys golf starts on April 10th! All of the spring schedules (except golf because that hasn't been finalized) are posted on the school website and app. You can view the school's Google Calendar by clicking the link at the top of the website; this is also what creates the events section on our app! You also can view each sport's schedule under the Athletics section -- this is handy if you want to just see one schedule at a time! Keep in mind that the spring schedules change quite often and the coaches have already handed out multiple versions of the schedule. We will make sure that these online schedules are the most up-to-date! Good luck to the varsity track and field team at their first meet today at the Minot State Dome!
REGISTRATION FOR 2023 SOUTH PRAIRIE DRIVER EDUCATION Class will be limited to the first 15 to sign up PAYMENTS/REGISTRATION WILL ONLY BE ACCEPTED THROUGH MR. COOPER AT THE SCHOOL Must have these things to register and secure a spot: Fee: $125 (Make check payable to South Prairie School) Proof of Permit Copy of Birth Certificate BRING THESE TO MR. COOPER 1st priority are older students. 2nd priority is 8th graders. 3rd priority is for students that are retaking driver education. STUDENTS MUST BE 14 YEARS OLD with PERMIT by the time of registration. CLASSROOM PORTION WILL BE MAY 30,31, June 1,2,5 (30 TOTAL HOURS). 8:30AM-2:30PM DRIVING PORTION(6HRS) WILL BE SCHEDULED WITH MR. COOPER Contact Mr. Cooper for any questions.
Speech results from yesterday: Emma Marten placed 3rd in EPR. Josh Lindbo placed 1st in Storytelling. This qualifies Josh for State Speech! Calen Rohrbach placed 6th in Persuade and 2nd in Impromptu. Maddie Hogue placed 7th in Speech to Entertain. Brea Pitner placed 5th in Speech to Entertain and 5th in Poetry. Natalee Becker placed 3rd in Speech to Entertain. Dalaney Ruhland placed 5th in Radio Broadcasting. Gracie Rauschenberger placed 5th in Serious Prose. Karl Behm placed 4th in Serious Prose. Brea Pitner and Lilly Hoffman placed 5th in Serious Duo. Gracie Rauschenberger and Maddie Hogue placed 3rd in Serious Duo. Emma Marten and Karl Behm placed 2nd in Serious Duo. Josh Lindbo and Gracie Rauschenberger placed 1st in Humorous Duo. This qualifies them for State Speech!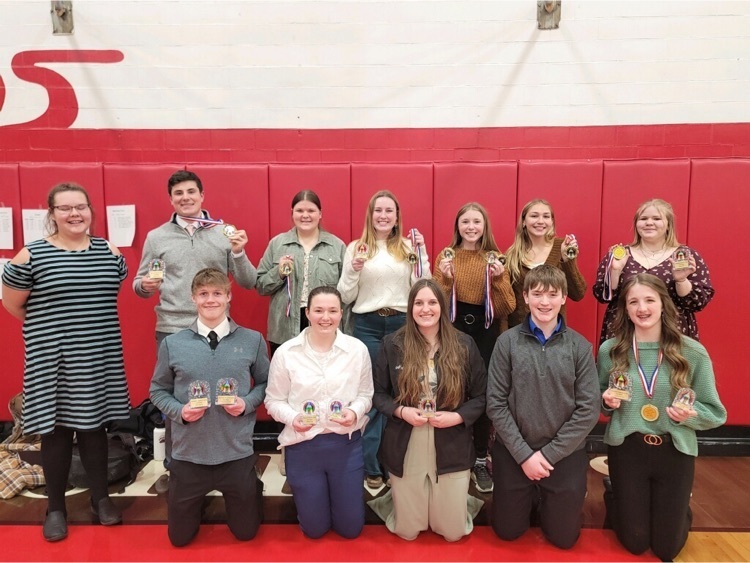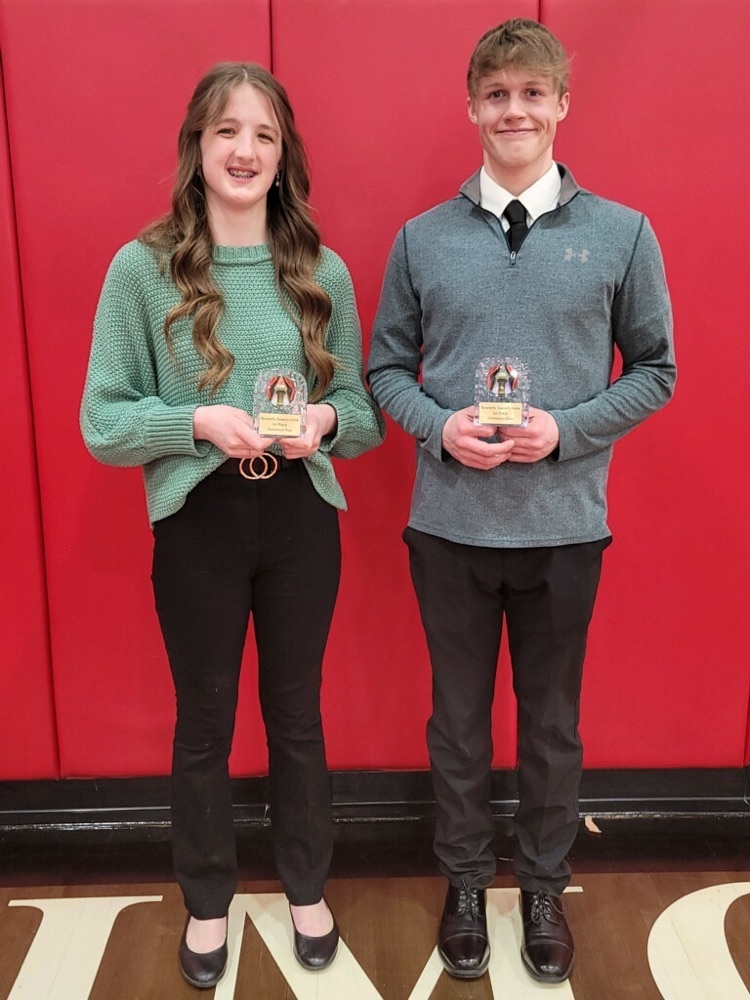 We will have a short class meeting at 12:25 today in mr coopers room.
Congratulations to the South Prairie Academic Olympic team at the regional competition yesterday. They competed in the categories of Math, Science, Language Arts, Current Events, Social Science, and Miscellaneous against 17 other schools in the area and got 2nd place! The students that participated were the following seniors: Annaliese Rauschenberger, Carson Anderson, Gavin Derheim, Layne Novak, Gage Olson, and Serena Ciser.
Congratulations to the 15 students who participated in the 2023 North Dakota National Archery Tournament at the North Dakota State Fairgrounds this past weekend! Here are the participants and some highlights! Nice job everyone!
The PTO Carnival is this Saturday, March 25th from 3:00 to 6:00 p.m.! There will be inflatables, laser tag, games, bingo, and a silent auction! You don't want to miss it! 🎟 Also, we could still use some volunteers, so parents or students in grades 6-12 who want to get volunteer hours, please contact Breann Zietz to see how you can help out!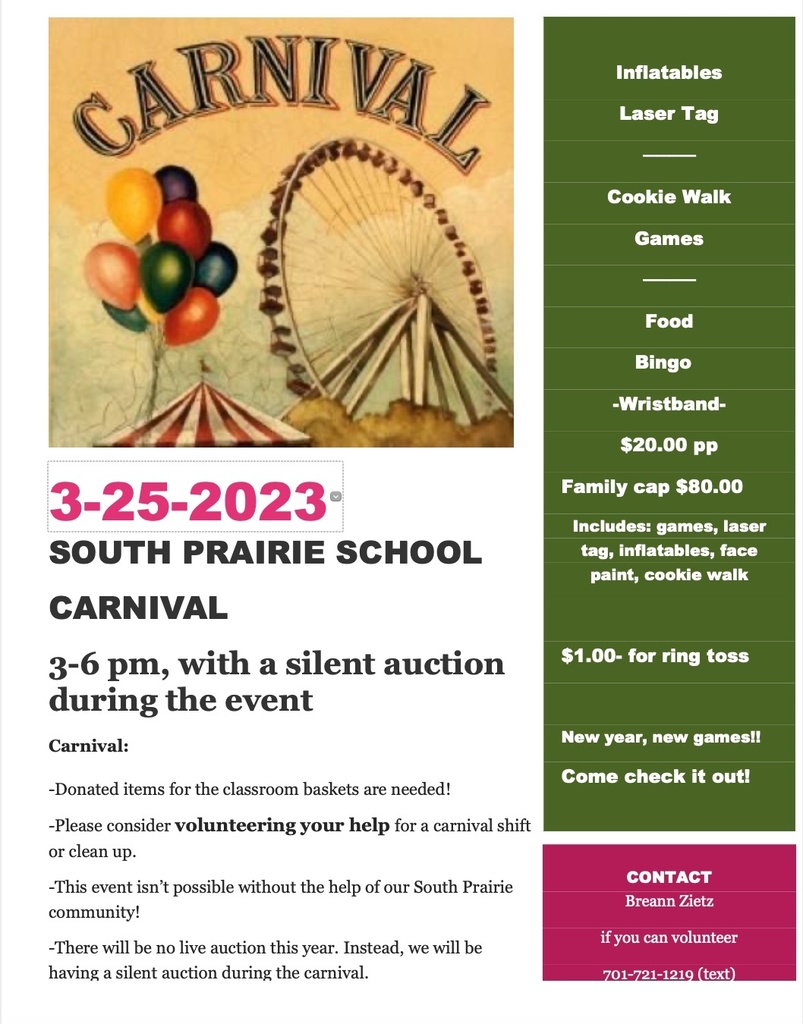 Congratulations to the South Prairie FFA chapter on their State FFA Winter Career Development Events today! The AG Sales team was fifth in the state, earning a gold award. Individually, Gracie Rauschenberger, Brylee Beeter, Jacob Kramer, and Joshua Lindbo all received gold awards. Natalee Becker finished silver. Amber Braasch finished silver in Livestock Judging. The Agronomy team finished silver. Annaliese Rauschenberger took home a gold award. Adam Newman finished silver, and Miranda Novodvorsky also participated.
South Prairie students in grades 6-12, if you would be interested in participating in a school talent show, please fill out this survey so we can determine if there would be enough interest!
https://forms.office.com/r/4ANYRZYhRf
5th and 6th grade girls basketball practice and track practice are canceled today due to the road conditions.
Today South Prairie School is celebrating Red Nose Day. Red Nose Day is a fundraising campaign to end the cycle of child poverty and ensure a healthy future for all children. Sources of Strength students are passing out red noses to students and staff today. 🔴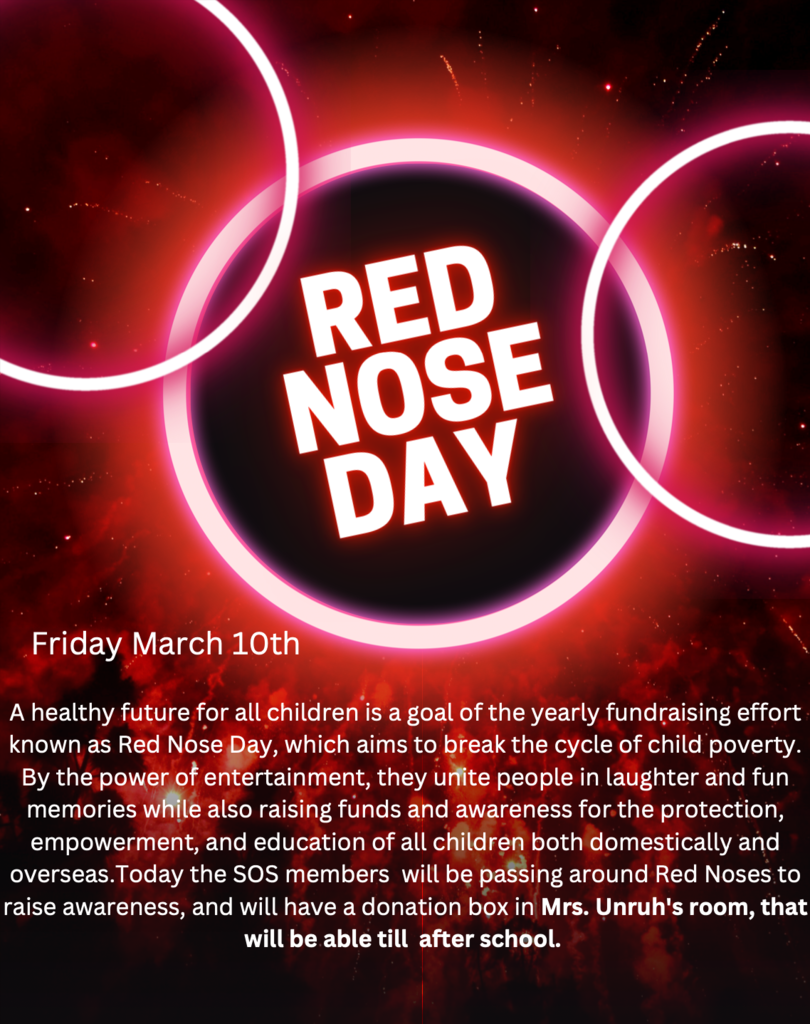 South Prairie parents, if you didn't get a chance to take this survey at conferences, please take a minute to give us some valuable feedback. The purpose of this survey is to gauge the beliefs and opinions about our school, so we can work together to maintain a positive climate and culture. Thank you!
https://eprovesurveys.advanc-ed.org/surveys/#/action/217013/61123
🌟 This week's 𝙉𝙚𝙬 𝙎𝙩𝙖𝙛𝙛 𝙈𝙚𝙢𝙗𝙚𝙧 𝙎𝙥𝙤𝙩𝙡𝙞𝙜𝙝𝙩 is on Scotti Pease, 5th grade teacher! 🌟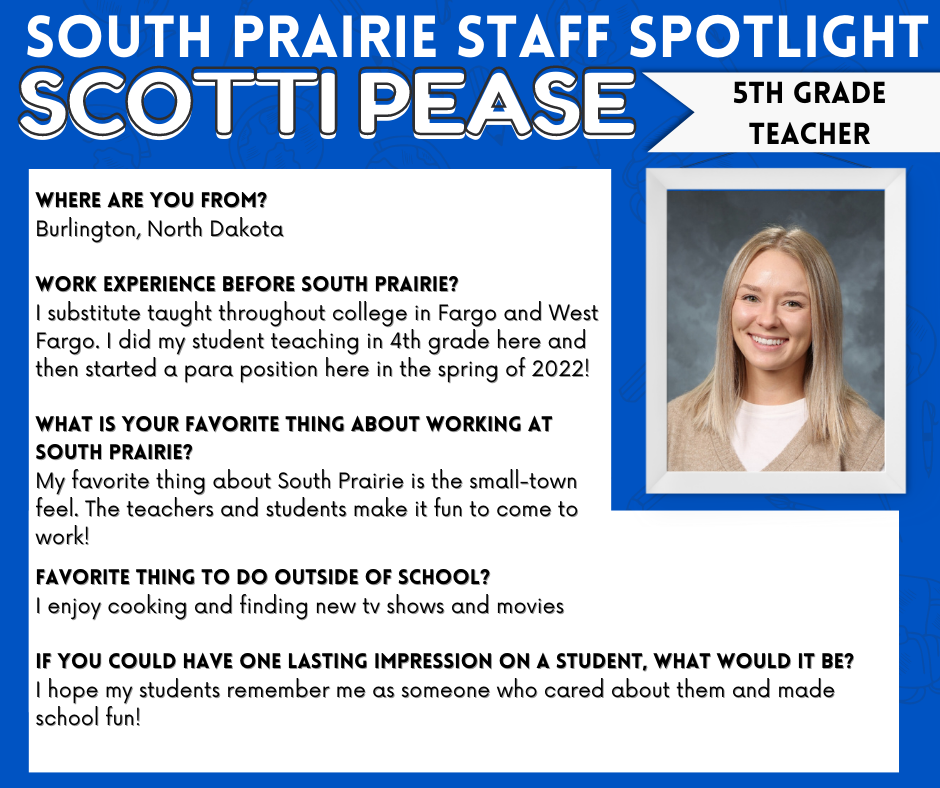 After winning first place at the state level, Gracie Rauschenberger competed in the National VFW Voice of Democracy audio-essay competition in Washington D.C. yesterday. Gracie received a $3,500 scholarship and says that entering the essay contest and being involved with the Veterans has been a very positive experience for her! Here is some more information from the scholarship chairman, Peggy Headrick, on the competition and scholarship that Gracie won: Established in 1947, our Voice of Democracy audio-essay program provides high school students with the unique opportunity to express themselves in regards to a democratic and patriotic-themed recorded essay. Each year, nearly 25,000 9-12 grade students from across the country enter to win their share of more than $2 million in educational scholarships and incentives awarded through the program. The national first place winner receives a $35,000 scholarship paid directly to the recipient's American university, college or vocational/technical school. A complete list of other national scholarships range from $1,000-$21,000, and the first place winner from each VFW Department (state) wins at least a scholarship of $1,000. I am pleased to announce that fellow student Gracie Rauschenberger has been awarded first place in the North Dakota Veterans of Foreign Wars Voice of Democracy Scholarship program. Her entry to VFW Post 753 was judged and she was awarded 1st place. Her entry was then submitted to ND VFW District 3 judging where she again placed 1st. After receiving 1st place at the District level, her entry was submitted to the State level where she was awarded the State 1st place winner. Her recorded speech is being sent to the National Scholarship Program for competition on the National level. As winner of the State competition, Gracie has been awarded a trip to Washington DC, along with all 50 state champions. Gracie has also been invited to attend the ND VFW Mid-winter Conference to read her speech. -Peggy Headrick VFW Post 753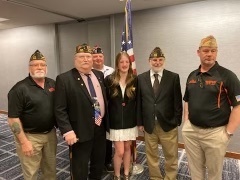 Trap Registration March 15! Deadline to sign up for the trap team is March 15. It is open to all students grades 6-12. Please contact Mr. Stanley for more information.